Pumpkin Cream Cheese Stuffed French Toast
Did you know that "French toast" was not created in France? In France this dish is called "pain perdu" which means "lost bread" or better translated, "stale bread". This is because its original intent was to use up stale or day-old bread (think day old bread before preservatives existed!). This frugal dish is also called "pain perdu" in Belgium, New Orleans, Acadiana, Newfoundland, and the Congo, among other places!
According to history accounts, making a simple pan-fried milk and egg-soaked sliced bread dish dates back to 4th century Rome, in a cookbook attributed to Apicius. The Romans called it "Pan Dulcis" meaning "sweet bread". Years ago the French called it "pain a la Romaine" (Roman bread)! Maybe we should call it "Italian Toast"? One audacious American White House chef (from an 1887 cookbook) even called it "American Toast"!
Call it what you will, just call me when it's done! This stuff is good.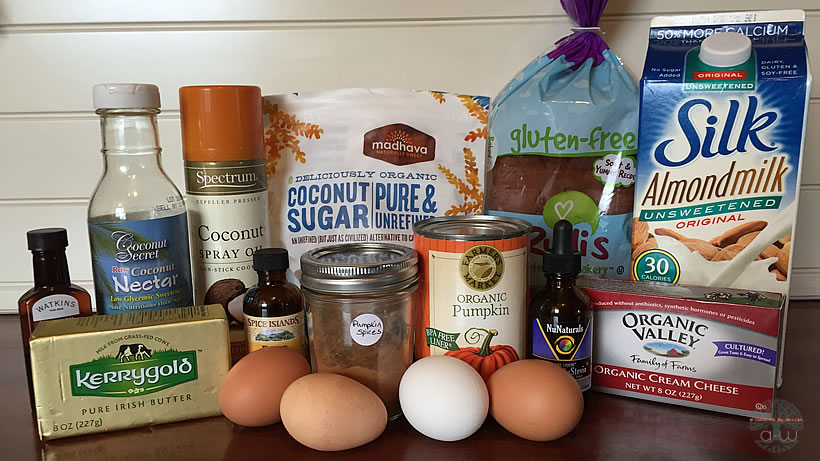 I usually make grain-free recipes to avoid the gluten and to keep the overall carb count down for blood sugar balancing. I've made homemade grain-free breads and they would be good to make this with but this time I went with a ready-made store-bought bread to keep the recipe quick and easy. The Rudi's Gluten-free Cinnamon Raisin Bread hit the spot! Nice thick pieces too. The bread will have a hefty carb load but mixed with the protein in the egg and milk (and maybe a few pieces of Applegate's uncured no-nitrate or nitrite Sunday bacon on the side?!) it should balance the carbs nicely.
We're swapping the usual white sugar for NuNaturals Liquid Vanilla Stevia and Coconut Secret's coconut palm "sugar" crystals (or the Madhava brand I found at Wal-Mart because I was out of it – just as good!) and subbing a very low carb syrup option which keeps the total sugars and carbs hit of this dish way down. Please feel free to enter the recipe data into an on-line calculator if you need to know the exact stats before you indulge.
Although this is not a dairy-free recipe, it can easily be converted if you need that. We used Silk Unsweetened Original Almond milk in the egg soak because a few of our brunchers can only tolerate dairy milk if it is fermented. Even though we have lots of raw cow's milk I don't always have freshly fermented raw milk (like kefir, buttermilk or clabbored milk) made so it is easy to keep a carton of this protein-packed dairy-free "milk" version in the fridge for baking or smoothies.
For those that strictly can't have dairy (or choose not to) there are dairy-free cream cheeses in stores and homemade "vegan cream cheese" recipes made from nuts like cashew or macadamia. We used Organic Valley's cultured cream cheese in this. It is cultured (naturally fermented, making it probiotic) cream cheese so it is easier to digest and, like butter, cream itself is naturally mostly lactose-free. The Organic Valley brand is "produced without antibiotics, synthetic hormones or pesticides" and is our store version of choice. We have our own grass-fed healthy milk cow so the only other cream cheese I prefer is homemade raw milk cream cheese from Buttercup!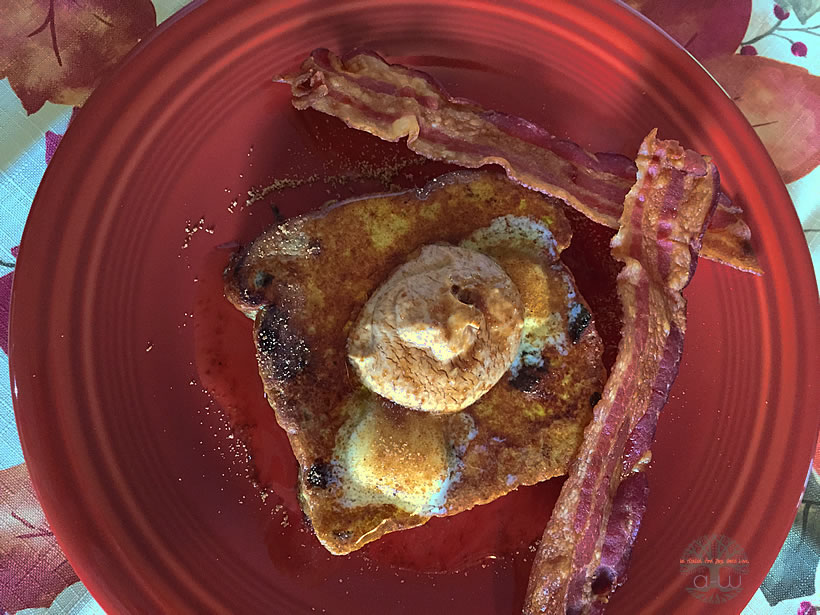 Now French toast is a special treat any time of the year but this version is an especially special seasonal treat with a pumpkin cream cheese stuffing! Think of a pumpkin pie crashing into a cheesecake then falling inside your French toast… just waiting to be smothered in Kerrygold grass-fed butter (if you don't have homemade butter made from raw cow's milk!) or a drizzle of homemade syrup. Seriously, a drizzle is all you would need (if any at all!) with this decadent morning dessert breakfast.
---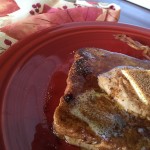 Fall-ful flavored French toast - a gluten-free and sugar-free version with dairy-free options!
| | | |
| --- | --- | --- |
| | | Fall-ful flavored French toast - a gluten-free and sugar-free version with dairy-free options! |
Pumpkin Cream cheese filling
Combine filling ingredients. Put filling inside each 2 pieces of bread like a sandwich.

Combine the rest of the French toast ingredients and pour into a shallow dish (like a small casserole dish or pie plate).

Dip each sandwich in egg mixture covering both sides.

Pan fry or griddle the sandwiches until they are golden brown on both sides.
Use dried, ground spices for this mixture and store in an airtight container out of direct light.
Add coconut nectar and maple extract
This isn't technically a part of this recipe but is more of a timing tutorial tidbit: Before I started the French toast I put that aforementioned package of Applegate Naturals' Sunday Bacon* on the broiler pan (1 pkg. fit perfectly). I put it in the cold oven and turned it on 400 degrees F. I then set the timer for about 20 minutes and it was done by the time the French toast was finished. I love to let my appliances work for me! No standing and tending a hot, messy frying pan! It cooked, mess-free (and without my help!), while I made the rest of the meal – all in less than 30 minutes!
*I like Applegate because their bacon is hardwood smoked but is uncured and is nitrite and nitrate-free. There are natural small amounts of nitrites in things like celery, etc. that are harmless but large amounts of ni's in processed and packaged meats have been considered carcinogenic. Applegate has different meats that are natural and organic. The meat sources are also non-GMO and antibiotic-free. For us Florida folk, they sell it at Publix.
This post may be shared this week on the following: Homestead Barn Hop, Clever Chicks Blog Hop, Thank Goodness It's Monday, Much Ado About Monday, Mostly Homemade Mondays, The Art of Homemaking Mondays, Modest Mondays Link Up, Monday's Musings, Natural Living Monday, Making Your Home Sing Mondays, Fat Tuesday, Titus 2sDay, Titus 2 Tuesday, Real Food Wednesday, Homemaking Link-Up, Wildcrafting Wednesday, Allergy-Free Wednesday, The HomeAcre Hop, Think Tank Thursday, Fight Back Friday, Real Food Fridays, Foodie Fridays, Old-Fashioned Friday, Fabulous Finds, From the Farm, Simple Saturdays Blog Hop.