Spiced Pecan Pumpkin Crock Cake
Autumn is my favorite season, maybe because I was born on the first day of Fall. The day before my 50th birthday (September 22, 2014) a little treat came in the mail. Nope, it wasn't a gift, per se, it was the latest edition of the Williams-Sonoma catalog. I thoroughly enjoy these little catalogs! Of course I drool over all of the kitchen tools and gadgets – whether they're classic chef's implements or the latest high-tech cooking apparatus – but the real drool-worthy part is the gorgeous food photography! That little freebie is also loaded with recipes and inspiration!
Today's recipe is one inspired by Williams-Sonoma's 10/14 edition page 4-5 spread called "Pumpkin Patch Desserts". The tag-line says "Nothing compares to the irresistible aroma of a sweet, spiced pumpkin quick bread baking in the oven." I totally agree! They have mixes to make this cake (even a gluten-free one!) but they are not grain-free, sugar-free and low enough carb count for us. So my sudden new obsession goal was to make that cake "my way" the next day for my "Jubilee year" birthday. I didn't have one of the beautiful pumpkin patch loaf pans in the picture and wouldn't have the time to do an oven cake anyway so I wanted to try making one in a Crock-Pot! Here's a link to the Williams-Sonoma site with their original pumpkin recipes and drool-worthy photographs!
You can cook any cake recipe in a slow-cooker as long as it has enough liquids and plenty of good fat for moisture. Make sure the lid stays closed well to keep in moisture.
[Below the cake recipe are my recipes for homemade Pumpkin Pie Spice and homemade Citrus Spice mix!]
---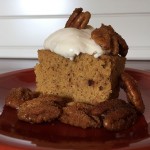 Nothing compares to the irresistible aroma of a sweet, spiced pumpkin quick bread baking in the oven.
| | | |
| --- | --- | --- |
| | | Nothing compares to the irresistible aroma of a sweet, spiced pumpkin quick bread baking in the oven. |
Spiced Pecan Pumpkin Crock Cake
Line a 6 qt. slow-cooker with parchment paper and grease with coconut oil. This won't be pretty! Do your best with the parchment then cut off any portion that would stick up above the crock or cause the lid not to completely seal.

Mix wet ingredients in a large bowl.

Mix dry ingredients in a medium bowl making sure to break up any clumps of flours or spices.

Combine wet & dry ingredients and pour into crock pot.

Mix topping ingredients and sprinkle on top of cake mixture.

Put lid on crock securely, set to low and cook for 2-3 hours.

Test cake for doneness. When tester comes out dry remove from crock by carefully lifting parchment. Let it cool if you can!
This makes enough for 8 recipes at 2 t. each. Use dried, ground spices for this mixture and store in an airtight container out of direct light.
This will fit in a pint Mason jar and makes a wonderful gift! It is delicious in baked goods, tea and mulled apple cider.
I serve this with either whipped cream, ice cream or my cream cheese frosting on top.
The almond flour, coconut flour and erythritol can be purchased through my Honeyville Grain affiliate link on the left side of the page. Their almond flour is the finest-ground I've found and I've used it for many years. All of the other ingredients can be found at most grocery stores and even Wal-Mart. If any of the ingredients are not available in your neck of the woods (you can always ask your grocer to stock them) or you can order them through my Vitacost link on the left of the page and get $10 off of your first purchase!
* In most of my baking I like to use a mixture of grain-free flours to achieve more of the old white flour texture and consistency. These mixtures turn out pretty much like the home-milled soft white wheat flour we used to use. Protein powder is the least carb/glycemic choice here but you could also use a naturally gluten and grain-free starch flour for this ¼ c. amount like arrowroot, tapioca or potato, etc. in its place. It would still be a low carb cake even with the small amount of starch. I do prefer the protein powder because it helps the flours stick together without gluten (which is a wheat protein). If you use one of the starches listed above you could add 1 t. xanthan gum or 1 T. pure gelatin to help bind it. (I like the Great Lakes brand).
** I also like to use a mixture of natural sugar-free sweeteners to achieve the old white sugar taste and consistency. I have used a mixture of erythritol and stevia to sweeten this for a zero glycemic, zero carb choice. These are both sugar-free but are natural and are not artificial sweeteners. Erythritol is a natural fermented sugar alcohol that is 70% as sweet tasting as sugar with no blood sugar effects. I use the stevia to make up the 30% sweetness difference. It is a natural herb that is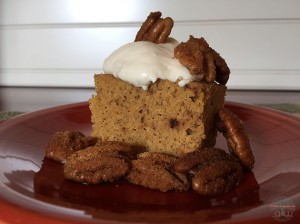 200 x sweeter than sugar. I purchase both through Vitacost (affiliate). You can also use products like Pyure or Truvia (available at most grocery stores and Wal-Mart, etc.) as long as they do not contain any added sugar (many now have "baking blends" with sugar added – but what's the point of buying a sugar-free baking blend with sugar added back in?!?!? Boo.). Another product that is a mixture of erythritol and stevia is Swerve but I don't care for it. #1 because it's very expensive and #2 because it has a strange and very COLD aftertaste. I've heard some people don't notice that but our whole family didn't like it. I'm sure it's a fine (safe & healthy) product but just one that we don't enjoy. To me it tastes more like Xylitol which is another sugar alcohol but has a cooling effect in larger amounts and has a small glycemic effect as well.
***We have sour orange, calamondin orange and lemon trees on our property. They are all super sour. When they are ripe we pick them and juice them then freeze the juice. We take the peels and scrape out the pithy fibers and then cut them into pieces and dehydrate them in our Excalibur (affiliate). Once dry, I store them in ½ gallon sized Mason jars. To make powdered zest for cooking just pulverize some in a spice or coffee grinder until powdered. Any citrus you like will work here.
This post may be shared this week on the following: Homestead Barn Hop, Clever Chicks Blog Hop, Thank Goodness It's Monday, Much Ado About Monday, Mostly Homemade Mondays, The Art of Homemaking Mondays, Modest Mondays Link Up, Monday's Musings, Natural Living Monday, Making Your Home Sing Mondays, Fat Tuesday, Titus 2sDay, Titus 2 Tuesday, Real Food Wednesday, Homemaking Link-Up, Wildcrafting Wednesday, Allergy-Free Wednesday, The HomeAcre Hop, Think Tank Thursday, Fight Back Friday, Real Food Fridays, Foodie Fridays, Old-Fashioned Friday, Fabulous Finds, From the Farm, Simple Saturdays Blog Hop.