Join the Abundant-Wellness RevOILution!
Are you well-thy?
Are you fulfilling your purpose?
Are you living abundantly?
I'm looking for several motivated people who are ready to start answering "yes!" to those 3 things and to help others to do the same. Here's the deal…
As a Certified Natural Health Professional I appreciate and use the variety of ways that God designed nature to help us balance our body's self-healing. Like God's prophet Ezekiel described, "The fruit from the trees will be used for food, and their leaves for medicine." We can "let food be our medicine" as well as use the leaves of the flora like herbs and the essential oils from them.
Essential oils are the most potent source from those plants God intended as medicine. And Young Living is my source for pure, therapeutic-grade essential oils. They are the oldest, largest and most trusted essential oil company in the Unites States and provide quality products all over the world. I have partnered with them to provide these family-friendly resources to everyone. Do you know what the best part of that partnership is? Being able to share them with you!
Many doctors and hospitals use Young Living's oils around the world yet essential oils are what I call, "the people's medicine." You don't have to be a health professional to use them. They are safe, effective and easy to use! Isn't that what we need? To be able to care for ourselves and those in our care? As a CNHP I don't act as a doctor and I have no grand plan to try to "fix" everyone – instead I want to teach everyone how to help their bodies fix themselves! God made us to work this way!
The mission of Young Living is "… inspiring individuals to wellness, purpose and abundance." Young Living understands that to be truly healthy and well we need balance in all parts of our lives! Health is important but what if you have no purpose in life or don't have the finances to get the things you need and to help others?
So, I am looking for several people to partner with me to share the good news that every family can experience "wellness, purpose and abundance". My team of wellness advocates is growing fast and I'm believing for more! Are you one of those people?
#1 Are you a self-motivated leader?
#2 Do you enjoy working from home and setting your own schedule?
#3 How about getting your wellness products for free plus earning residual income at the same time?
#4 Would you like to learn how to use essential oils for yourself and family and help others learn their benefits as well?
You don't have to be in perfect health – you just need a desire to be healthier and happier! I'm looking for people ready to learn, make positive changes and share with others while creating a business that can not only support you financially but provide opportunities for lasting friendships and encouragement as well.
Young Living's oils and products are not sold in stores because they are committed to education – and that can only come through people. They don't pay for mass marketing, they distribute the money that would cost to the people sharing about them. The products can be purchased retail with no obligations or commitments or can be purchased wholesale (like a Sam's Club membership). Young Living works in a mentorship model so that you always have support to go to for help, advice and encouragement.
As one of my top-level team members you will have:
On-going coaching and support through me.
Access to training classes.
Access to team calls and webinars.
Access to the Young Living members-only virtual office with unlimited resources for education, sharing and business building.
Ways to create your own on-line presence.
Opportunities for sharing via social media.
The lowest wholesale pricing for Young Living products.
Opportunities to earn free products.
The potential to create a life, wellness and business you love!
As a bonus – the chance to learn about natural health and wellness directly from me.
To join my team you must be:
Ready to learn about the oils, ready to share about them and ready to create your own team to help and lead!
Ready to invest in your Premium Starter Kit (these* start at $150)
Ready to share with your friends and family so that you earn that $ back by the next month – likely before you have to pay the credit card!
Ready to earn commission and bonus checks (plus free products) by placing a qualifying order of at least $100 worth of product each month. It is important that you have and use the products regularly so that you know about and can share about them. If you follow my suggestions you can easily earn the cost of your order back every month plus a substantial income on top of it! (I did not raise my budget to do this! I simply replaced things I had already budgeted for and would ordinarily purchase with the healthier, safer, non-toxic versions from Young Living.)
Ready to live in wellness, purpose and abundance!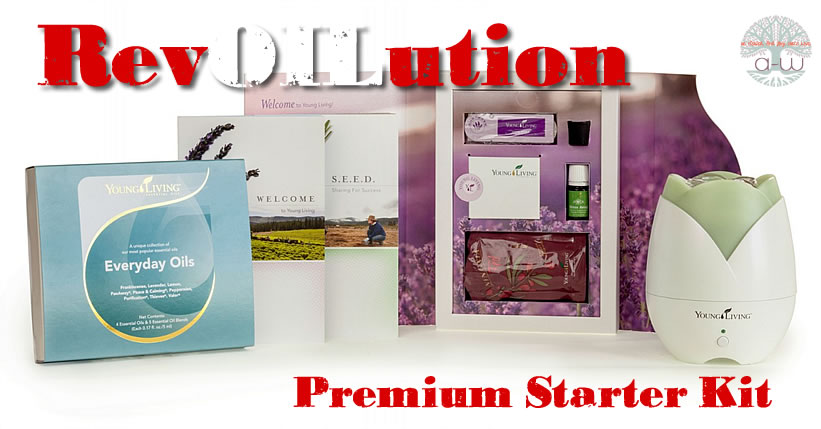 *The Premium Starter Kit gives you everything you need to start using essential oils for yourself and family – 11 oils in the "Everyday Oils Collection", a home oil diffuser, a roller-ball attachment, many samples of oils and wellness products plus educational materials! (This kit is for you to use – not to "sell"! We don't sell anything but HOPE. We simply share about the oils and offer people the opportunity to learn more and order them for themselves. You never need to stock or re-sell anything.)
Ready to join me in the RevOILution?
I can offer the next 2 people who join my team a discount code for $20 off of their Premium Starter Kit!

Please e-mail me directly at Angelia@Abundant-Wellness.net to get your code!

Please hurry because I only have 2 codes to share right now!
For everyone that joins the revOILution – I will give you access to my 2 training class instant download DVD's to get you started right away! These are each 2 hour full-length live classes that we professionally filmed. You also get the complete presentation notes in the video so that you can stop and take notes or make lists!
The videos  are titled: "The Essentials of Essential Oils" and "Everyday Uses of Everyday Oils"
E-mail me right away @ Angelia@Abundant-Wellness.net to join my team!

But, wait a minute! What if you don't want an opportunity to earn money? What if you just want to start using the oils and get healthier and happier? That's okay too! I am happy to sponsor your order and give you all of the training you need to get started! I will also be your contact should you ever have any questions or need help. Like I said earlier, you can order retail with no commitment to ever order again (although I doubt that will happen!) OR you can order wholesale.
I have an entire section of my website devoted to giving you information about what essential oils are, what they do, how they work and how you can order them! The tab at the top of my site is called "Therapeutic-Grade Essential Oils". Below that page you will find links to pages answering the questions:
What are therapeutic-grade essential oils?
How do medicinal-quality essential oils work?
How can I use these oils for my family's health?
What brand of essential oils are pure and trusted?
How can I purchase these oils to use for myself and family?
Is there a way I can save more money and earn free products too?
How can I join the Abundant-Wellness team?
Can I work with the Abundant-Wellness team?
There is an opportunity on every page for you to order the oils!
be Healed. find Joy. share Love. Live in Abundant-Wellness!
This post may be shared this week on the following: Homestead Barn Hop, Clever Chicks Blog Hop, Thank Goodness It's Monday, Much Ado About Monday, Mostly Homemade Mondays, The Art of Homemaking Mondays, Modest Mondays Link Up, Monday's Musings, Natural Living Monday, Making Your Home Sing Mondays, Fat Tuesday, Titus 2sDay, Titus 2 Tuesday, Real Food Wednesday, Homemaking Link-Up, Wildcrafting Wednesday, Allergy-Free Wednesday, The HomeAcre Hop, Think Tank Thursday, Fight Back Friday, Real Food Fridays, Foodie Fridays, Old-Fashioned Friday, Fabulous Finds, From the Farm, Simple Saturdays Blog Hop.