What is Natural Health? (part 1)
I hear this a lot, "What is this whole 'natural health' thing about anyway?" …so, I thought it might be a good topic to cover. We're gonna ask a lot of questions and try to explain the answers in real life terms – with as little woo-woo, crunchy talk as possible.
Generally, prior to the 20th century "medicine" was natural; the body was allowed to do its job in fighting off sickness and remedies were made from plants that the body recognized as natural foods. There were some points in history where curiosity was stronger than common sense and strange healing methods were experimented with. Most of those methods (think leeches and blood-letting) started out with logical assumptions but ended, well, not so "well".
Technological advances (some very good!) led to a new form of "medicine" created chemically in laboratories. The not-so-good result is that most of the pharmaceutical drugs concocted are not recognized and accepted by our bodies as natural and, therefore, cause "side-effects". Many side-effects are not acute (immediate & pressing) but work more like a devilish form of dominoes that slowly cause negative sequential reactions. Unnatural living habits and diets create the need for unnatural symptom relievers.
Natural medicine (also called naturopathic medicine or naturopathy) simply tries to utilize the wisdom of our forebears and the natural resources provided us to bring balance to the body. Historically all around the world our ancestors have understood the basic principles of health that seem to have been forgotten in the shadow of modern technology:
"Gracious words are like a honey comb, sweetness to the soul and health to the body", was a proverb spoken by King Solomon, King of Israel. Another of his proverbs says, "A merry heart does good like a medicine."
An old Irish proverb says, "A good laugh and a long sleep are the best cures in the doctor's book."
"The best six doctors anywhere
And no one can deny it
Are sunshine, water, rest, and air
Exercise and diet.
These six will gladly you attend
If only you are willing
Your mind they'll ease
Your will they'll mend
And charge you not a shilling."

Old English Nursery Rhyme
---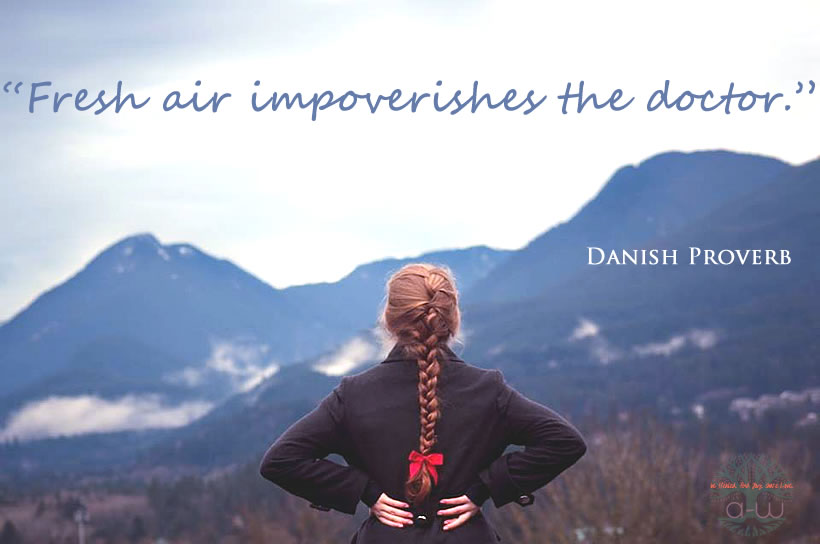 There are many more examples like these but the point is that natural medicine is just that – natural. You would think that natural things would be natural to people but somehow, things have gotten a little misleading in the natural health field. A lot of misconceptions surround this topic so I would like to clarify a few of them.
Let's get the pressing matters taken care of first, shall we? Concerning natural health…
Question: "Do I have to eat granola?" Answer = No.
Question: "What if I don't like Birkenstocks?" Answer = Don't wear them.
Question: "Because you use herbs does that mean you are a witch? Do you make potions?" Answer = No. Not a "bad" one or a "good" one.
Question: "If I follow natural health recommendations must I move to a nudist colony?" Answer = Please don't.
Question: "If I do 'natural' things, should I move to Colorado and smoke the weeds?" Answer = Live wherever you like but we don't suggest smoking anything except BBQ.
Question: "If I use natural medicine do I have to drive a Subaru?" Answer = Only is you need to haul a lot of herbs around in the back and want good gas mileage and need a car that has room for your bike on back and your kayak on top.
Question: "Exactly where is my aura?" Answer = Probably parked in the garage next to the Subaru.
Now that your mind is at ease, let's talk about what natural health does mean. "Natural health" actually describes the way to live in abundant wellness by choice. It is how we maintain good health and also how we correct health imbalances by utilizing a holistic approach to life. "Holistic" means we consider the whole person and their condition of well-ness or dis-ease.
To explain how natural health works for us first we must understand what we are and how we were made. We don't have to know every nuance of anatomy and physiology to understand how we generally function. Knowing how we were made helps us to understand how to keep healthy or how to bring ourselves back to a place of wellness if we've gotten away from it.
Once you know how something works you can see how to fix it! To explore the way natural health works we're going to answer several questions:
How are we made; how does our health naturally function?
How do we naturally stay healthy or return to wellness?
What do we use to naturally fuel our bodies?
What do we use to naturally heal?
If it required a degree and license to know how to live and to live well God wouldn't have created us to procreate. We can do this thing called life! My passion is to enable you to take back the control of your own health-care and that of the loved ones you care for. I'm not only suggesting that it's simple but that we can actually find the path back to abundant wellness! So, wanna join me? Let's take a look at each of these questions one at a time…
Next time we'll talk about…
What is Natural Health? (part 2) "Spirit, Soul & Body Health"
This post may be shared this week on the following: Homestead Barn Hop, Clever Chicks Blog Hop, Thank Goodness It's Monday, Much Ado About Monday, Mostly Homemade Mondays, The Art of Homemaking Mondays, Modest Mondays Link Up, Monday's Musings, Natural Living Monday, Making Your Home Sing Mondays, Fat Tuesday, Titus 2sDay, Titus 2 Tuesday, Real Food Wednesday, Homemaking Link-Up, Wildcrafting Wednesday, Allergy-Free Wednesday, The HomeAcre Hop, Think Tank Thursday, Fight Back Friday, Real Food Fridays, Foodie Fridays, Old-Fashioned Friday, Fabulous Finds, From the Farm, Simple Saturdays Blog Hop.