How can I purchase these oils to use for myself and family?
Although I use many healing modalities and natural remedies in my practice and in our home, pure therapeutic-grade essential oils, products and supplements made with them are my top choice. You don't have to be a doctor to use these medicinal-quality oils or need a prescription to purchase them. Essential oils are what I call "the people's medicine" – using nature to heal natural things.
Although the remedies are pure and simple there are many things to learn about using them. For that reason Dr. Young set up his company over two decades ago to work in a mentorship model. This assures that there is always someone you can go to personally (whether locally or by phone or e-mail) to get help and advice. This assures that the products are used the way they are intended and that you have the full potential of their ability at your disposal.
"To honor our stewardship to champion nature's living energy, essential oils, by fostering a community of healing and discovery, while inspiring individuals to wellness, purpose and abundance."Young Living's mission statement
---
That's why Young Living is such a large part of my repertoire of natural remedies, it mirrors my own goal of assisting you to achieve your own "wellness, purpose and abundance"! And the best part? Once you get started on the path you will naturally want to help others do the same for themselves and their loved ones. It's a beautiful cycle of life and is my motto: be Healed. find Joy. share Love.
You can follow this link to go directly to Young Living's order page.
Young Living makes getting and staying healthy easy and convenient.
You can order two ways to best suit your current needs:
#1 Order Retail
You can order retail on-line just like you would from any place on the internet – with the exception of some good news – that you still have a personal contact within the company to help and assist you in the order process and in deciding the best choices of oils and supplements for your particular situation.
There is more good news! I am here to help you! The even better news is that I am not only a Young Living distributor and consultant, I am also a Certified Natural Health Professional and my business is helping you become healthy, happy and whole!
I do not charge for general advice and information on Young Living products or for helping you decide the best way to order what you need. I do this complimentary as a blessing to you, along with my prayers for your health and wellness. I am acting as your sponsor and enroller in this process. You must have a sponsor/enroller number to order with Young Living so that they know you have the personal help and attention you deserve. We want you to be satisfied and secure in your health-care choices. When you follow this link to the order page, for your convenience, my number will be filled-in for you automatically. It is 1657131. My name is Angelia Anderson. If you have questions about how to order you can e-mail me directly at Angelia@Abundant-Wellness.net .
If you need more help charting your health care plan than a simple product recommendation I am available for appointments. You can see information about the consultation options I offer under the Consultations tab.
#2 Order Wholesale
This second option is where it gets really good! And is my #1 suggestion of the two. I'm all about the deal. Why buy something and pay more than you have to? Well, to be fair there are times when we must – like in an emergency or crisis situation. But, when we're able to save money it's the ideal (get it? i deal) scenario. This wholesale ordering option gives you 24% off of retail pricing and many other opportunities to save money, earn money back, get free and discounted products and even to earn money if you desire to.
To get wholesale pricing you simply sign-up for membership in Young Living just like you would to purchase things from a wholesale buyers club (like Sam's or BJ's, etc.) EXCEPT there is absolutely no membership fees or expense. There is no fee upfront or annually. There is nothing to renew, it's simply joining the wholesale group so that you can make monthly purchases at a 24% (and up to 40%) discount.
To order by this frugal method you can click here to go directly to the order page. My sponsor and enroller number is already filled-in waiting for you (#1657131). Like with the retail option, when you order wholesale I am acting as your sponsor and enroller. I am here to help you.  And like I said above, if you still find you have questions after that feel free to e-mail me at Angelia@Abundant-Wellness.net .
When you sign-up for membership you will initially choose a starter kit to (literally) get you started using Young Living essential oils. In the video linked above I explain in detail about the best option to choose for your starter kit. The only option I recommend is the "Premium Starter Kit" because you get over $316 worth of oils, equipment and information to get you started on your healing journey for only $150. Plus you get everything you need all in one place. Remember the methods of using therapeutic-grade essential oils listed above? The fastest and MOST effective route for the oil molecules to enter your system is by aromatic inhalation, therefore Young Living includes a high quality home diffuser in this kit. This Premium Starter Kit (either the $150 kit or the $160 kit with the new model of aroma diffuser) also includes the Everyday Oils Collection which is a set of 10 of the most-used and most popular single oils and oil blends that Young Living offers.
I explain the many uses and benefits of these oils in the in-depth training DVD in our on-line shop titled Everyday Uses for Everyday Oils. It is a must-have resource! Another (and maybe even more important) tool to get you started is our DVD training course entitled Essentials of Essential Oils (also found in the Abundant-Wellness shop) to teach you everything you need to know about using therapeutic-grade, medicinal-quality essential oils.
There are many other items that come in this starter kit (roller-ball attachment, booklets of information, an oil blend called Stress Away (which I keep with me at all times!) plus many samples for you to try different oil-enhanced supplemental products and samples to share the oils with others.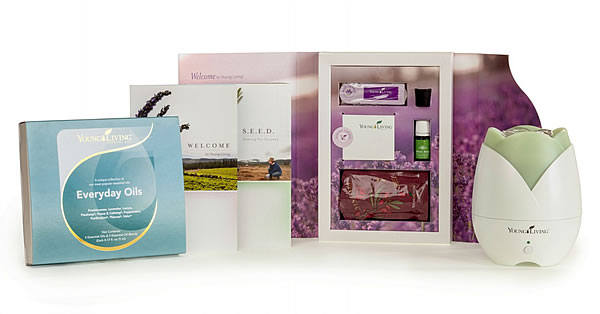 I am so excited for you to get started on your healing journey to abundant wellness today
and I can't wait to meet you and help you on the path!
Click HERE to go to the next page: "Is There a Way I Can Save More Money and Earn Free Products Too?"
---

---