Home
be Healed. find Joy. share Love.
That's why I'm here. My mission is to help you to BE HEALED and whole – body, soul and spirit.
In the process (and I LOVE this part!) you FIND YOUR JOY! And you know what comes next?
You naturally just want to SHARE THE LOVE! That's when you start helping others to do the same thing.

---
Abundant-Wellness is all about giving you the tools and information to empower you to live each day in abundant wellness! I want you to join our growing family of the abundantly well-thy!
So how do we do that? Through holistic health consultations, seminars, internet and media education  – my goal is to help you support your body's healing, maintain health balance and promote ailment prevention.
What else do we have here? Yummy real food recipes – with included special diet options that are customizable for your specific needs. We have gluten-free, grain-free, sugar-free and artificial sweetener-free, even options for dairy-free, nut-free or egg-free. I teach you how to tweak any recipe to fit your needs. One thing you need to know: I totally refuse to sacrifice taste or texture for the sake of healthy. My goal is to take the "die" out of diet and the "hell" out of healthy! You can tweet me on that.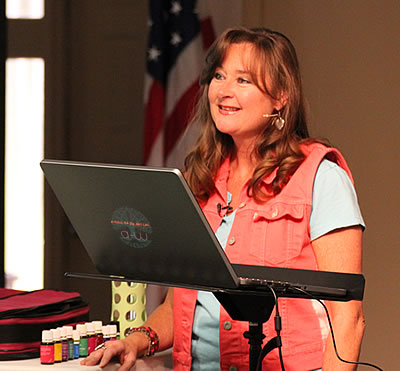 To help enable you on your wellness journey I've gathered knowledge on natural health and real food nutrition for you and your family, for your home and even for your homestead and farm.  Wondering when and how to use natural medicine? Hang out with me and learn about healing herbs, therapeutic-grade essential oils, and natural remedies – what I call "the people's medicine". Sure, go ahead, tweet that too.
Besides helpful blog articles and media we have several resources on-site to equip you for the path in our Abundant-Wellness shop, our A-store and professional affiliates that we partner with. Want to learn more about us? Visit our "About tab" to learn more about Abundant-Wellness, Angelia Anderson, CNHP, The Anderson Family, and The Anderson Homestead History.
As a Certified Natural Health Professional I offer consultation appointments locally and internationally. We have local, phone and internet appointments to best fit your needs.
Living in abundant wellness is a natural, healthy state of being in body, soul (our mind, will and emotions) and spirit; my desire is to help you get there! My hope is to help you achieve holistic health harmony and to walk with you on your journey to Abundant Wellness!
Jesus said, "…I came that they may have life and have it abundantly."John 10:10|ESV
You can start your healthy happy journey today! Join our A-list of the Abundantly Well-thy! Click below to subscribe and never miss a post PLUS receive our FREE gift just for our A-list family, an instant download E-book!